» Country? Thailand.
» In a few words, what is the idea? Their symbolic universes are very singular and their life experiences really interesting. We tell you who they are and where they live. A chance for a great personal experience.
» Duration? At least one night, better two, that is, one full day.
» For whom? Curious travellers about other ways of facing life, who appreciate human contact, wanting to learn and enjoy.
» Where? Mainly north of Thailand, provinces of Mae Hong Son, Chiang Mai, Chiang Rai and Nan.
» When? All year long.
An extensive network of ethnic minorities live in Southeast Asia, spread across the territory in small communities. With few exceptions, they have never held dominant positions in the region, so have been forced to migrate frequently.
These tribes account for more than one million people living in Thailand and distributed among some 40 different ethnic groups.
They represent a fantastic opportunity for travellers to acquaint themselves with very different ways of thinking and living, thus enriching their cultural heritage.
Below is a beautiful video about the hill tribes.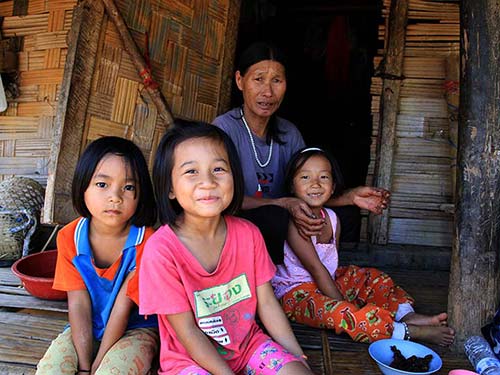 The best-known is the Padaung tribe because of the brass neck rings that the 'longneck' or 'giraffe' women wear, an unusual tradition that today is also a useful commercial hook.
Most of the Padaung people live in neighbouring Myanmar and there are just a few villages in Thailand so you can imagine what happens when many groups of tourists turn up to see them.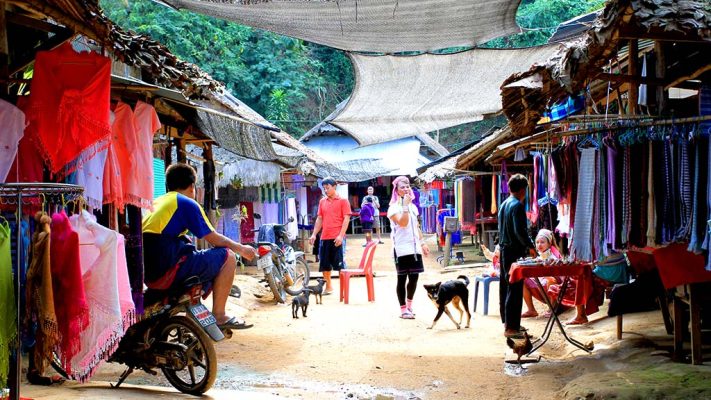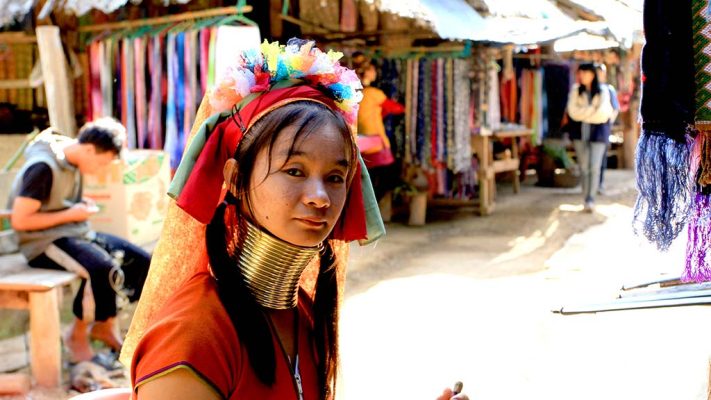 If you feel like visiting them, you will find villages close to Mae Hong Son and in the province of Chiang Rai, on the way to the Golden Triangle.
Fortunately, you can visit them as well as many other communities. To set an example, please, let us introduce some of them:
LAHU tribe, Christianity defeated Animism
You have to pay heed to all of the spirits, those that have to do with your family and tribe and also those you share the territory with, be they protective spirits or evil ones because otherwise you may anger them and they could end up causing illness among the members of the community.
Hens and pigs have always been preferred victims in offerings.
But one day a preacher arrived with medicines encouraging the Lahu to go to the hospital when they fell ill and this was the first step towards a loss of faith in the power of the spirits and to believing not so much in science as in Jesus Christ and in angels.
KAREN tribe, the colours come after marriage
Karen young women traditionally wore white clothes when single and then never again once married.
A woman called Subaen was asked about what would happen if a married woman wore white dresses, she replied that it would be an offence to the spirits of her ancestors, in particular, to her grandmother and that a wild animal would devour her.
If this is the risk and jungle surrounds your village you would probably think twice before breaking away from a tradition.
But these days there is not much jungle left and novelty ruthlessly prevails over traditional customs.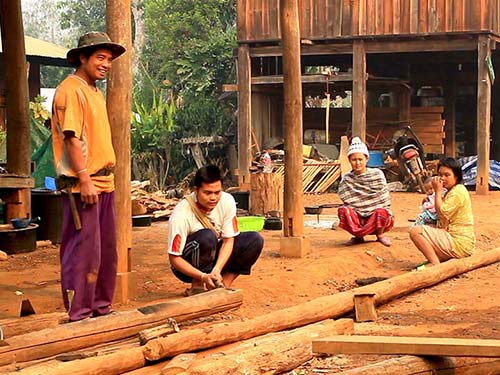 LISU tribe, the New Year Celebration
Ali-ya is 18 years old and still lives with her parents because she is single. In the village, they are going to celebrate New Year, one of the leading festivals.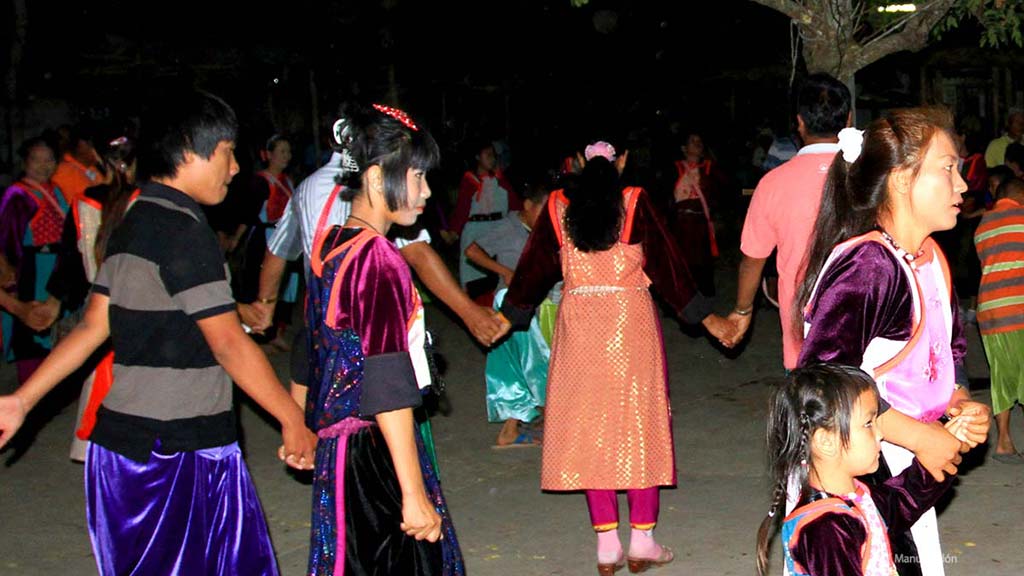 She tells us that people living away from the village return to see their elderly relatives and also to apologise if they have done anything wrong during the year. A lot of men also return to meet the village girls and maybe strike up a new relationship.
They wear traditional garments and dance in a group around a tree in the centre of the village.
Ali-ya explains that 'for the Lisu, if you come back to the village to share a meal of new harvest rice with your family then you will know that you have done the best deed of the year'.
A visit to these communities is a great opportunity to share a fascinating way of life, very different from our own.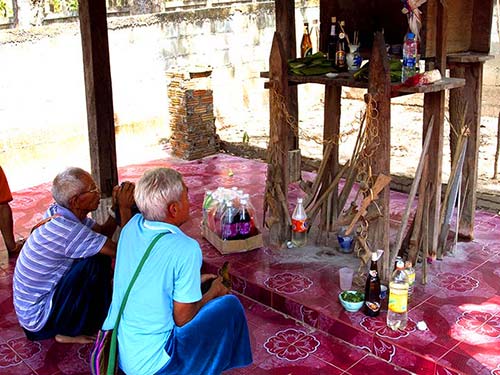 SHAN tribe, Buddhism and Animism together
The Shan people come from south China and mainly live in Myanmar in the state that bears their name; there are, however, communities scattered throughout south-east Asia.
Their villages are located near the forests which are where they obtain part of their resources. Their traditional sources of livelihood are rice growing and craftwork.
As for their beliefs, spirit worship and Theravada Buddhism live side by side.
Sharing part of your holidays with a Shan family is a unique experience.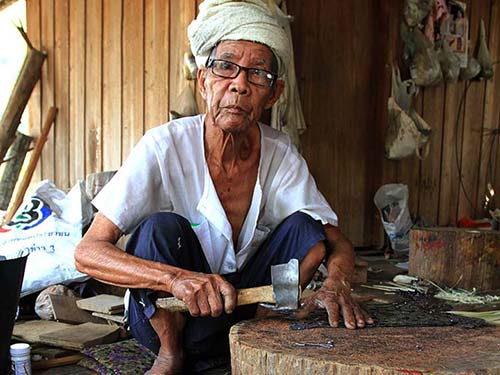 Our video about the Hill Tribes
How to visit the Hill Tribes?
The first way is a large group visit to the village markets of these tribes, usually as part of nature-related activities such as hiking or cycling. A quick visit for little more than taking some photos.
Nevertheless, there are some more interesting options.
The second option is to visit a village during the day to share lunch with a family, as we show in this post about the Akha tribe. In a small group.
If the idea appeals to you, we suggest thinking ahead of time about what you would like to know about the family and tribe, in order to make the conversation richer. Ask the guide to tell you about them during the outward trip.
The third option is to spend a night in a local community, so there is enough time to visit the village and chat with some of its inhabitants.
Activities are usually carried out depending on the tribe and the season of the year. Possibly you can meet the school and perhaps also the shaman if there is one.
There are villages where you can stay in resorts that are well integrated into the natural environment, such as this one at Lanjia Lodge in Chiang Rai (children from 2 years old) and the Lisu Lodge and the Araksa Tea Garden, both in Chiang Mai.
Private rooms allow you to maintain privacy and some amenities that you do not have to dispense with.
Another alternative is to overnight with a tribe family and sleep on mats in a room in the house, as shown in the image.
In this case, in addition to the above, a special bond is drawn with the family that welcomes you. It's great.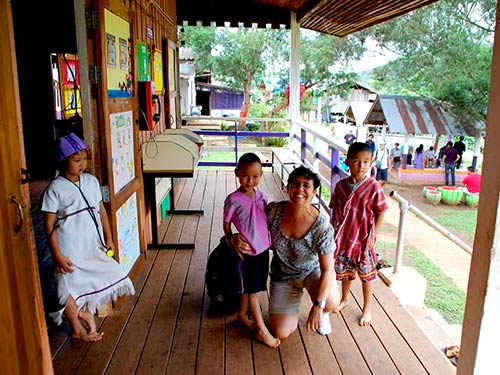 Families have been trained to care for foreigners, they know that these travellers are not accustomed or prepared to live exactly as they do in the village, for example, in terms of food.
The guide also takes part in the care of the guests.
Summary
Article Name
Description
Their universe is unique and their lives really interesting. Who are they and where do they live? They offer an opportunity for a great personal experience.
Author